This one tip can fast-track your soul winning training and give you the confidence to win souls to Christ. It makes soul winning so much easier!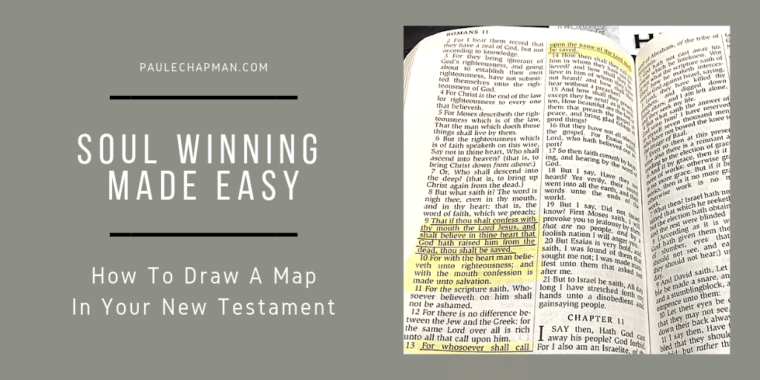 As a new soul winner, I was overwhelmed with the thought of leading someone through the Gospel plan. There was so much information to process!
How was I going to remember all the verses of the Gospel plan while learning meet people, answer questions, overcome interruptions, and confront objections?
Thankfully, my mentor taught us this simple tip that made soul winning so much easier for a beginner!
Confidence in soul winning comes from prayer, memorization of the Truth, practice of the techniques, and preparation of your tools.  Drawing a map in your New Testament helps you work through fearful jitters and unforeseen interruptions.
The concept is simple but effective. Draw a map through your New Testament by highlighting or underlining a verse then write the next verse you will go to next in the margin.
This simple tip helps make soul winning easy. It keeps you on track and guides you through interruptions.
Click To Tweet
We recommend highlighting the verses with a yellow or orange gel (dry) highlighter.  A gel highlighter won't bleed through thin Bible pages. Click here to see the gel highlighter I use.
I use the Romans Road Gospel plan with the addition of 1 John 5:13 to start. Usually, I finish with Titus 1:12, John 1:12-13, and John 3:36 for assurance after they trust Christ. I use Matthew 10:32 when asking them for a commitment to be my guest at church.
You can download a free .pdf tutorial of how to use these verses to win a soul to Christ HERE.
Follow these simple steps to draw a soul winning map in your New Testament.
(more…)